Steel reinforcement bars are about as unglamorous an industrial product as one can get. Their rally in China this week is anything but, with a surge to the highest since 2014 that's helping to boost iron ore.
Rebar futures jumped for the fourth straight day on the Shanghai Futures Exchange, advancing 6.1 percent to 2,750 yuan ($424) a metric ton. The product that's used to strengthen concrete is 20 percent higher this week, and up 54 percent in 2016. Iron ore futures in Dalian rose to the highest in more than a year as benchmark Metal Bulletin Ltd. prices powered above $70 for the first time since January 2015.
"You've got a tight market, you've got momentum, and you've got this fundamental driver for steel in the government boosting the infrastructure and housing side of things," said Chris Weston, chief market strategist at IG Ltd. in Melbourne. "The rebar price is really leading the iron ore price at the moment."
The rallies in steel and iron ore in 2016 are in contrast to last year, when slowing economic growth in China hammered prices and too much supply chased too little demand. This year, policy makers in China have talked up growth and added stimulus, presiding over a revival in the property market. Steel demand in China may increase as much as 10 percent in 2016, according to Credit Suisse Group AG.
'Getting Better'
"Firstly and perhaps of no surprise intuitively (but often overlooked in the market) rising steel and iron ore prices suggest demand is getting better," Credit Suisse said in a report on global steel markets dated April 20. "The magnitude of the iron ore and steel price hikes suggest that not only is demand improving but expectations should have moved very much into the inflationary camp for steel and iron ore."
Ore with 62 percent content delivered to Qingdao climbed 8.8 percent to $70.46 a dry ton on Thursday, according to Metal Bulletin. The price, which is set daily, has rebounded 84 percent since bottoming in December, surprising many banks that had forecast further losses in 2016.
Mills in China, which make about half the world's supply, have boosted output to an all-time high as property prices in bigger cities jumped and higher steel prices improved margins, reversing a squeeze from last year. Crude-steel production soared to 70.65 million tons in March, according to data last week.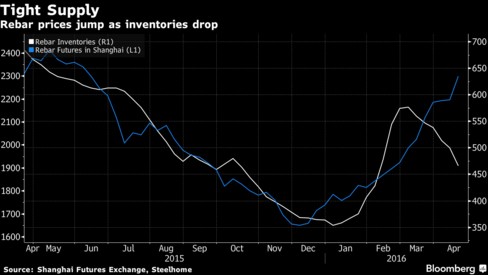 The record output by mills has so far failed to replenish inventories as the government cranks up stimulus. Stockpiles of rebar contracted for a sixth week, declining 6.8 percent in the period to April 15, for the biggest drop since October 2014, according to Shanghai Steelhome Information Technology Co.
China's economy gathered pace in March as a surge in new credit helped the property sector to rebound, with housing values in first-tier cities soaring. The trend has drawn concern from investors including billionaire George Soros, who said on Wednesday the credit-growth figures should be viewed as a warning.
"Why steel production jumped so rapidly was because the profitability of the steelmakers have improved dramatically," Georgi Slavov, head of basic resources research at Marex Spectron, said in an interview in Singapore. The price gains "will not be valid for too long because supply of iron ore will improve, production of steel will gradually weaken, therefore demand for iron ore will weaken."