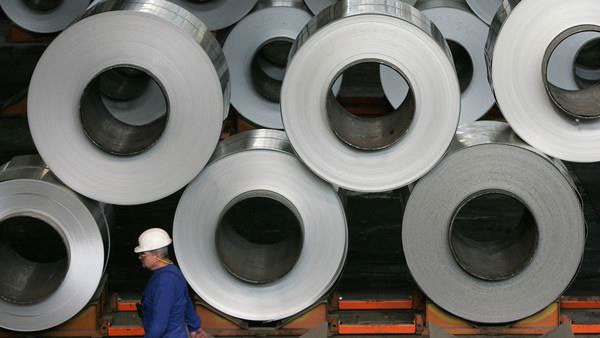 Alcoa, the US aluminium group, expects global demand for the metal to grow 6 per cent this year, only slightly slower than 2015, in spite of the volatility in financial markets.
Klaus Kleinfeld, chief executive, said increased market volatility could have an impact on growth but he expected aluminium demand to keep growing, provided there was a "non-catastrophic" outcome for the world economy, as the metal continued to be substituted for other materials including steel and plastic.
He also reaffirmed the company's planned timetable for splitting its upstream commodity metal and mining operations from its downstream specialist metals business, with the separation scheduled to be completed by the end of the year.
Mr Kleinfeld was speaking as Alcoa reported underlying 2015 earnings per share, excluding one-off items, of 56 cents, down 39 per cent from 2014 but slightly better than analysts had expected.
He said the company had faced "an unbelievably difficult environment" because of the falls in the prices of both aluminium and alumina, the intermediate material used to produce the metal.
In the final quarter of 2014 Alcoa was selling every its aluminium for an average price of $2,578 per tonne. By the final quarter of last year, that average price had fallen to $1,799 per tonne, down 30 per cent over the year.
The group's revenues were down 6 per cent for the year at $22.5bn. Alcoa's shares, which have halved in the past year, slipped 1.4 per cent in after-hours trading.
Mr Kleinfeld said the company had been "pulling every lever we have" to sustain profitability in its upstream operations, including a series of closures at its aluminium smelting and alumina refining operations in the US and around the world, some temporary, some permanent.
The company has set a target of being in the lowest 38 per cent of world producers for aluminium production costs, and the lowest 21 per cent for alumina costs. Mr Kleinfeld said he expected that by the end of the year it would have exceeded those targets.
"Even in this environment you can see the upstream is delivering," Mr Kleinfeld said.
The downstream operations, which serve the aerospace and automotive industries, meanwhile, have been benefiting from the strength of those markets, which is expected to continue into 2016. Alcoa forecast that the market for aluminium components would grow 8-9 per cent for aircraft and 1-4 per cent for cars.
The only conspicuous weak spot is expected to be demand for truck manufacturers, which worldwide is forecast to show somewhere between a 3 per cent decline and 1 per cent growth. The North American market for aluminium truck parts is expected to shrink by 19-23 per cent this year.